Italian Peasant Cooking Class II


6.15.23 from 6:00 PM to 9:00 PM
---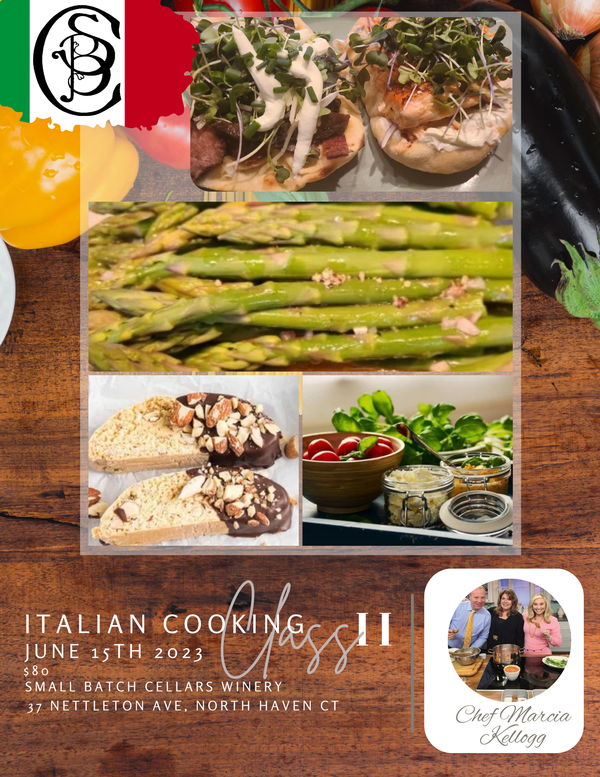 We are so excited to have Marcia Kellogg return to Small Batch Cellars for her second of four Italian peasant cooking classes! Enjoy an educational and fun culinary experience and all-over delicious evening!
Chef Marcia will introduce to you Italian peasant cooking and guide you through the steps it takes to create this humble, but delectable style of Italian cuisine. With experience through her many trips to Italy, she will demonstrate some authentic dishes. You can enjoy a delicious treat with sparkling wine while Marcia takes you through the steps to make scrumptious flatbreads. Then she will guide you through to design your own. Enjoy your creations while learning to make marinated asparagus, chicken cutlets wrapped with prosciutto and biscotti with macerated strawberries. Then sit down and enjoy this Italian peasant dinner paired with Small Batch Cellars wine.
Peasant cooking means "food of the poor"- It contains simple ingredients, is easy to make and very delicious. Now fashionable, it consists of simple recipes containing few ingredients, using mostly foods that are grown. Peasant cooking closely mirrors the Mediterranean Diet and is both healthy and nutritious.
To see more from Marica, visit her blog,
Food for Thought- Culinary Advice for the Everyday Cook
by clicking the link below:
Italian Peasant Cooking Class @ Small Batch Cellars
Thursday, June 15, 2023
6:00-9:00
Reserve your tickets by June 10th


Menu
Melon with mozzarella, prosciutto flower and basil leaves drizzled with balsamic glaze.
Flatbread with chicken, salmon or vegetable and various toppings of your choice. ~ (Interactive activity)
Asparagus marinated with red wine and mustard vinaigrette.
Chicken cutlet sliced thin & wrapped in prosciutto.
Biscotti with macerated strawberries.
Wine tasting of four wines
Dine and enjoy your creations paired with wine